2017 SANCTION SHOW - SCHEDULE
Our Club is holding its 27th Sanction Show on 20th May 2017.
This year for the first time we are heading west to Cootamundra, and will be holding the show in conjunction with the very successful Wattle Town Canine Carnival held during May at the showgrounds.
We have two well-known judges, and will be holding all the usual breed classes and sweepstakes and property classes, as per the schedule below. Junior Handler classes will also be held with the judge to be advised closer to the day.
Entries available via Ozentries.
We look forward to seeing you on the day!
* * * * * * * * * * * * * * *
BORDER TERRIER CLUB OF NSW INC
Twenty-seventh Sanction Show
Saturday 20th May 2017 at 10.30am
The Pavilion, Cootamundra Showgrounds, Pinkerton Rd, Cootamundra NSW
In conjunction with the successful Wattle Town Canine Carnival -
5 championship shows over 3 days, Friday 19, Saturday 20 & Sunday 21 May 2017
Mr Neil Curwen (NSW) - Breed Classes & General Specials
Mrs Jenny Williams (NSW) - Sweepstakes, Property Classes
Breed Classes & Specials: 1, 2, 3, 4, 5, 10, 11, 12 (Dogs & Bitches), 18 & 18A Open Neuter
(Note: Neuters over 7yrs not eligible to enter Class 12 Veteran Breed Class, but may enter
Veteran Sweepstakes)
Sweepstakes Classes: 3-6 months, 6-12 months, Veteran, Sire & Progeny*, Dam & Progeny*
*Sire/Dam to be supported by 2 progeny
Property Classes: Best Foot, Best Head, Best Pelt, Best Gait
Junior Handlers: Tiny Tots, 7 to under 10yrs, 10 to under 13yrs, 13 to under 18yrs - Judge TBA
Order of Judging: Sweepstakes & Property Classes, Junior Handlers, Breed Classes & Specials
Dogs NSW Representative: Ms R. Bank
Prizes:
Breed classes: BIS Trophy & Rosette. Ribbons 1st, 2nd, 3rd.
Sweepstakes & Property Classes: Ribbon 1st.
Junior Handlers: Ribbons for 1st, 2nd, 3rd & Prize
Entry Fees:
Breed Classes: $5.00; Sweeps/Property Classes: $2.00
Catalogues: $2.00 prepaid with entries
Numbers to be picked up on the day
Entries Close Friday 12th May 2017 online and by mail with:
The Secretary, BTC of NSW Inc, 7 Namoi Street, Hill Top, NSW 2575. Tel: 0417 868 473
Entries available online with Ozentries. Cheques payable to Border Terrier Club (NSW)
NB: Bitches in oestrum may be shown. The Club recommends that baby puppies not be shown until a full 14 days after their final injections
as they are not fully protected against parvovirus until that time.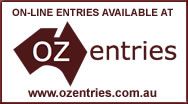 Contact Details
Julia Barnett
Hill Top, NSW, Australia
Phone : 0417 868 473
Email :
[email protected]